So, you have decided to open an account on Mastodon for whatever reason. I am sure it has got nothing to do with Musk turning the Birdsite into a far-right cesspool, of course. You just want to try the new thing everyone is talking about. It is just so complicated though. What with all these servers and everything? Let's go over it step by step.
First piece of advice: Use a PC for registration purposes, you will struggle with a mobile app.
Step by Step Guide to Registering at Mastodon
Naturally, the first thing you need to do is to register. Here's a step by step guide on how to do that.
Step 1: Go to The Main Homepage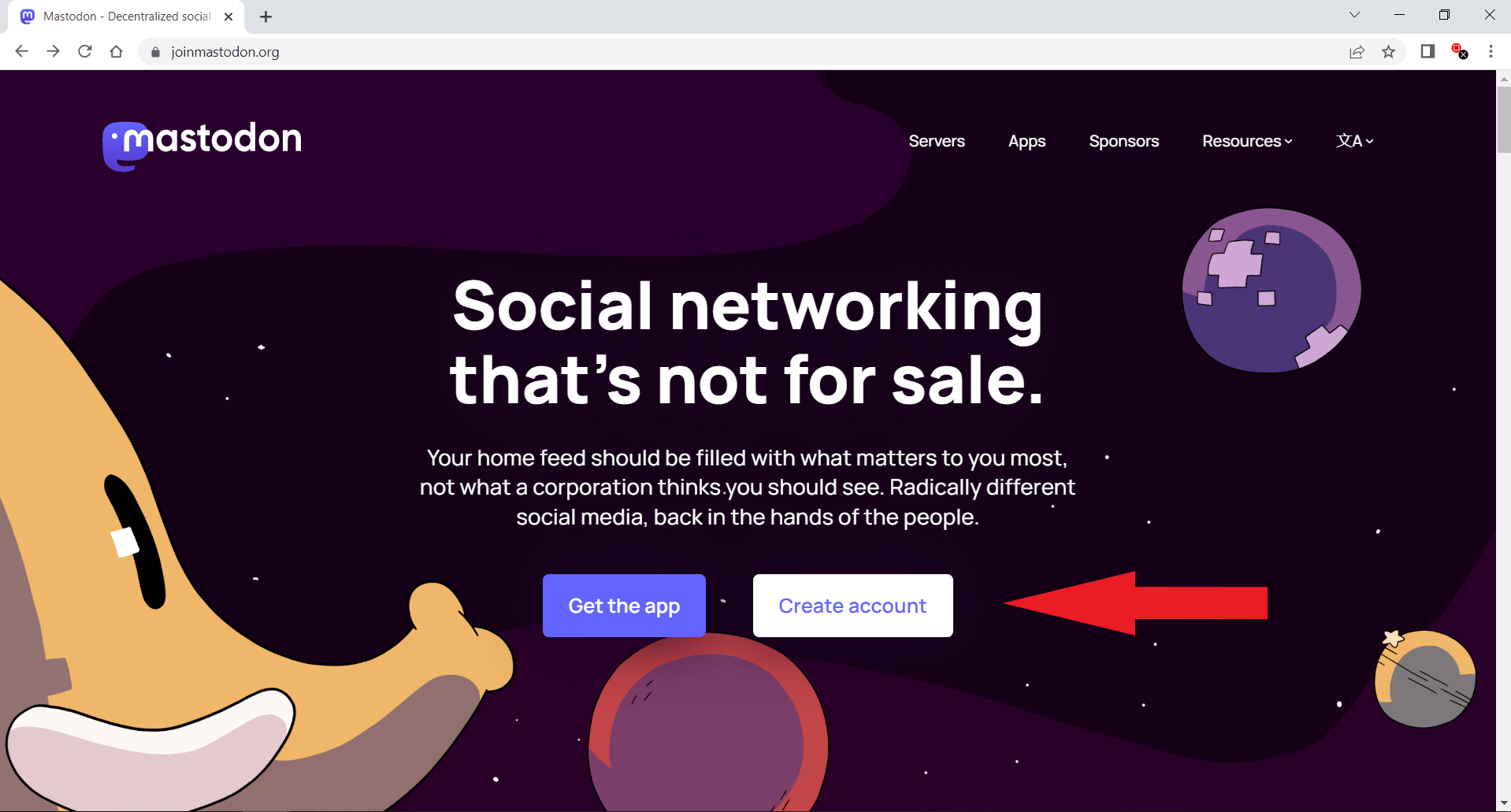 Go to https://joinmastodon.org and click on "Create account". This will take you to a curated list of servers.
Step 2: Choose a Server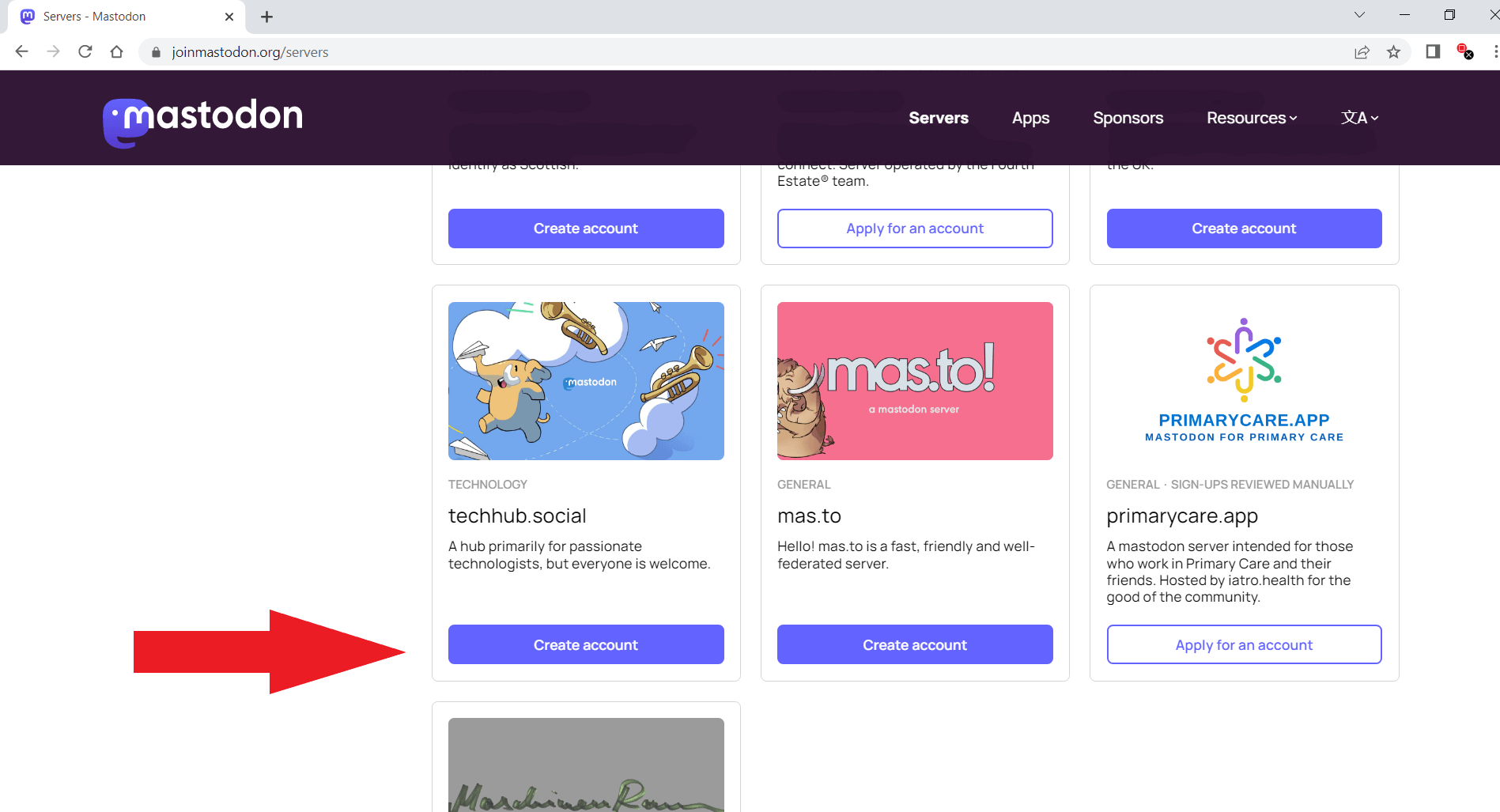 Choose a server you most identify with. But don't worry too much about it. Whatever server you choose you will still be able to follow anyone on any other server AND you can migrate from one server to another once you find a better fit, without losing your followers. For now, it is important to start, so choose any server you might like. Choose one with a blue "Create account" button, those are open to subscribers and the most straightforward to enter. If none of the servers in this list suite you, click here for the full list!
Step 3: Fill The Form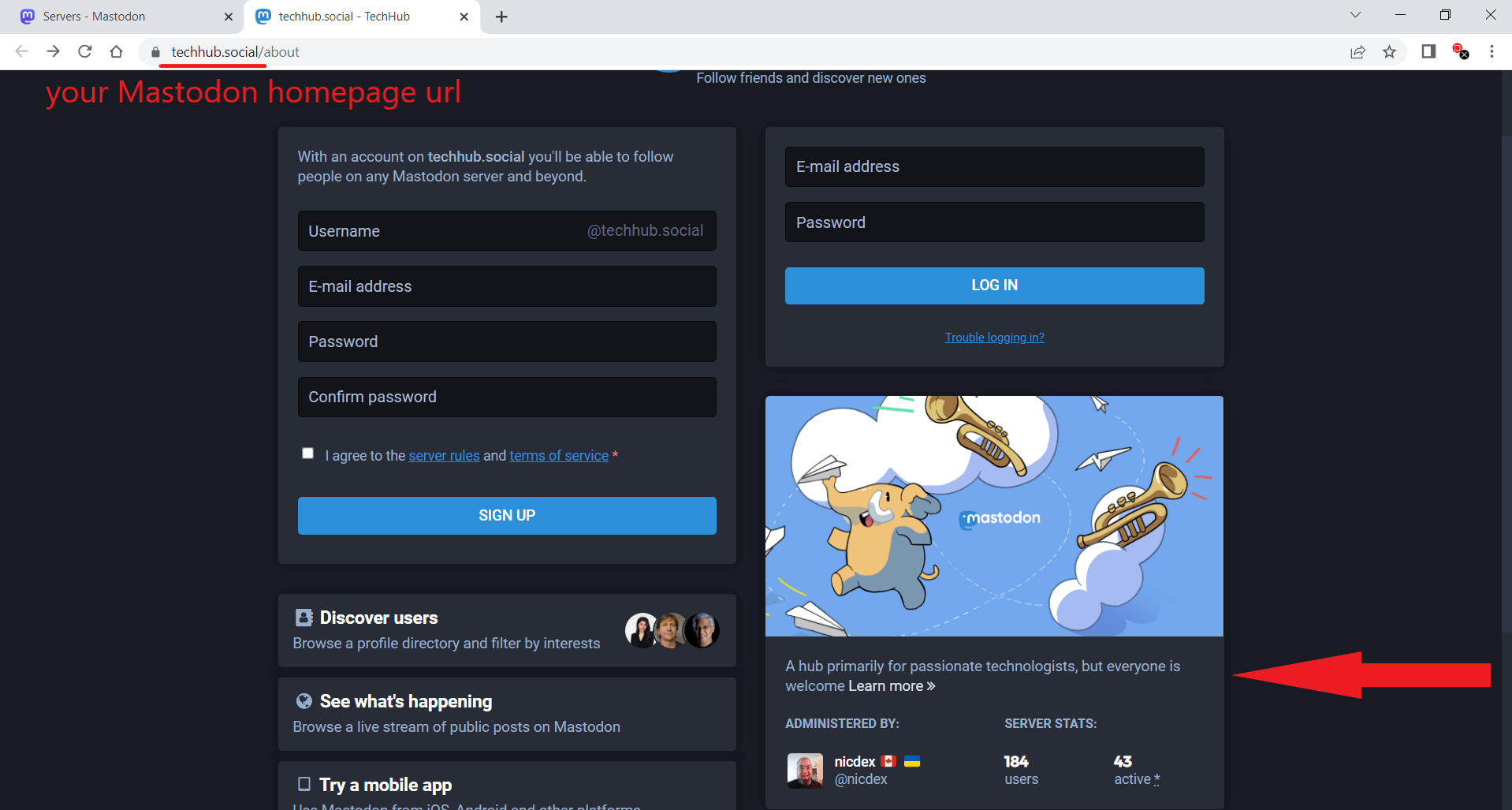 Once you are here you can register to the server you have chosen. The registration itself is the same as for any other web service, you choose a username, write your e-mail address and input a password. What is important to note is that you can see more about the server you are about to register with by clicking the "Learn more" link shown here with a red arrow. The other important thing to note is that you will access your newly created account from this server, so remember the url. Noted here with a red underline.
Step 4: Verify e-mail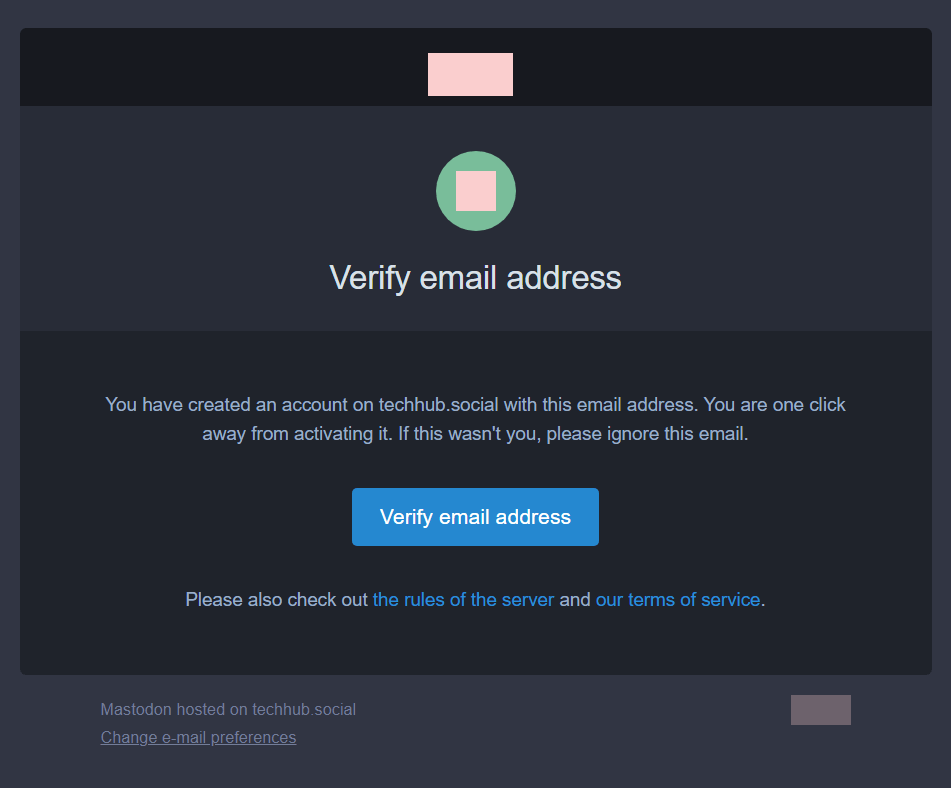 You will receive an e-mail address verification e-mail. After clicking on Verify email address you will be redirected to your server and will be automatically logged in. Now you may start using your Mastodon.
Step 5: You are Now Ready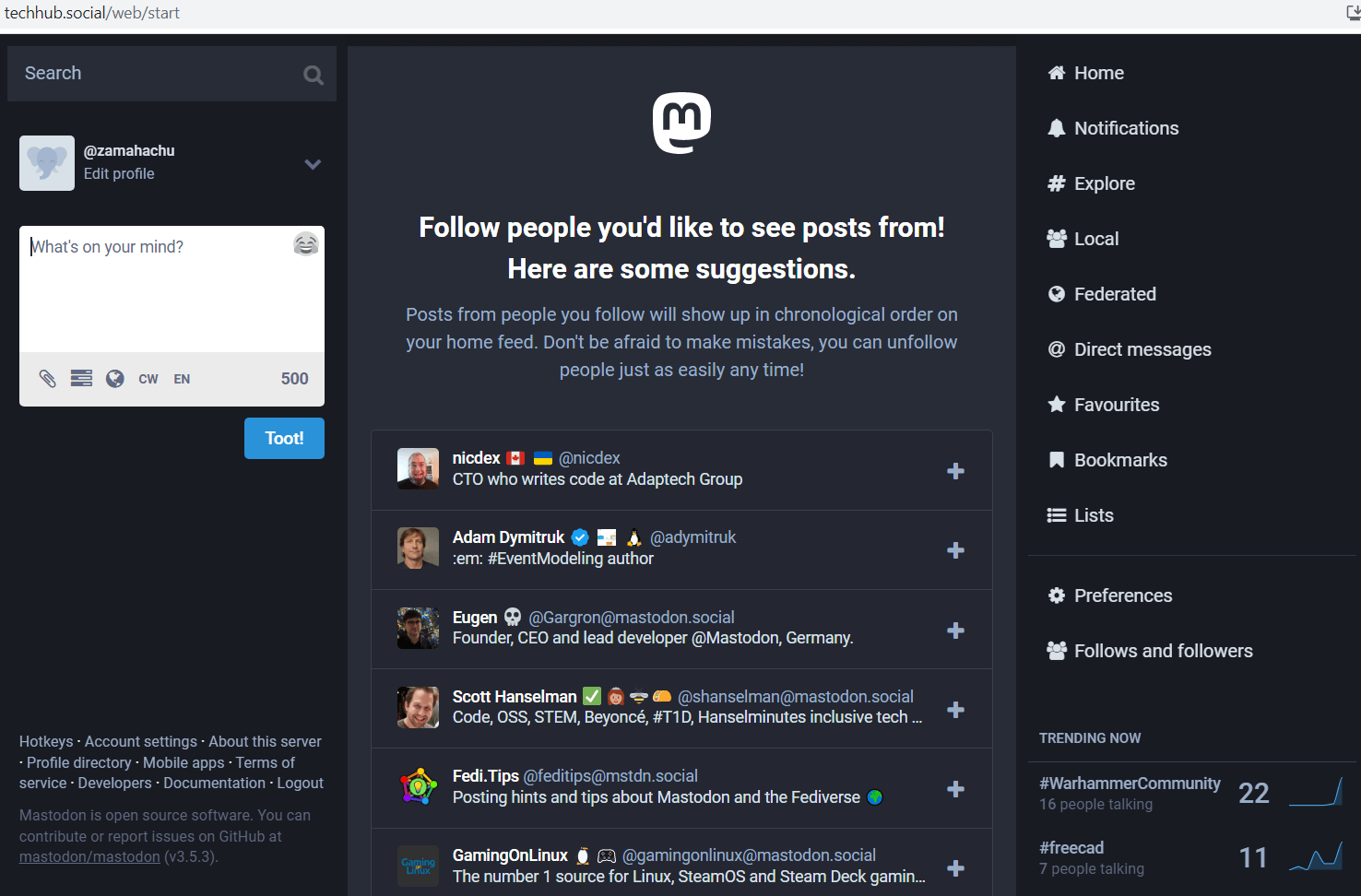 You may now start using your Mastodon account.
What About a Mobile App?
In this day and age we all access internet, especially our social media via mobile. Let's face it, doomscrolling is the comfiest when lying down in your bed with your phone in hand. No one wants to bring their laptop to bed really.
There are several apps for Mastodon:
Mastodon (official)
The official one, the one you can download from the main page is the worst one of them. It lacks many features the browser version of Mastodon and other apps have. So I do not recommend using it.
Although the software was developed by the admins of the original server: mastodon.social, it also includes a list of other public instances that you can join, broken down into subject areas.
The timeline in the feed is presented in a plain, uncomplicated manner. The search page provides access to the most widely used hashtags, news articles, and more.
I first started using Mastodon with this app, but pretty soon I realized that it lacks some essential features present elsewhere. For example the edit button. Yes, Mastodon has an edit toot option, however it is missing in the official app.
Mastodon (PWA)
This is how I use Mastodon on my Android phone. You can use Mastodon on your Android phone without downloading a native app. The possibility to install a Progressive Web App (PWA) is included with every Mastodon server.
The design on mobile devices is a little uncomfortable, choosing to place a full-height navigation bar on the right side, which reduces the amount of screen space available for the feed of posts. Unexpectedly, the Mastodon PWA contains a few extra capabilities that the native Android app does not. Which is the main reason I switched. You can edit an already sent toot. By clicking on the icons in the sidebar you can follow the complete timeline of your server, or of the whole Fediverse. The possibilities with the PWA app match those of the browser.
The PWA does have a drawback in that in order to use the app to its full potential, you must first select an instance and create an account. But since I have already made you register using your PC, this is irrelevant. Beyond that, you can notice that the PWA loads noticeably slowly if your chosen instance is having problems.
How to Install Mastodon PWA?
Here's a step by step guide:
Step 1: Open Chrome settings
Access your Mastodon account on your phone's Chrome app and click on the three dots in the upper right corner to access Chrome settings: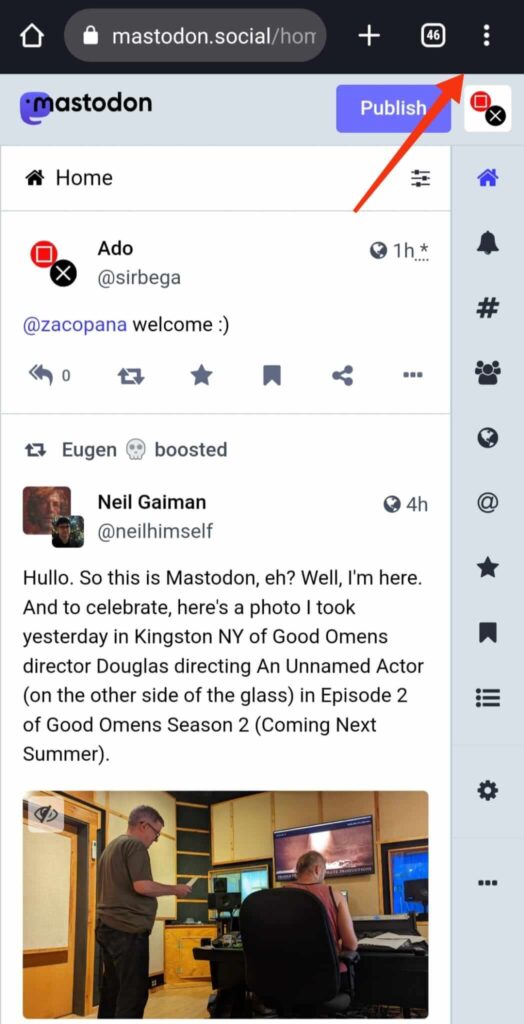 Step 2: Click on Install app
Click on "Install app" in the drop down menu as indicated by the red arrow in the screeenshot below: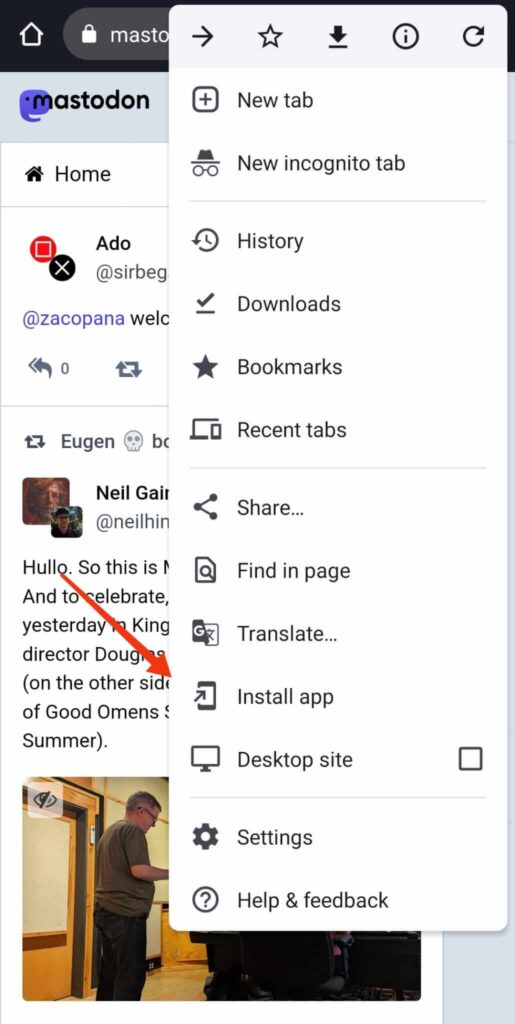 Step 3: Locate the App on Your Home Screen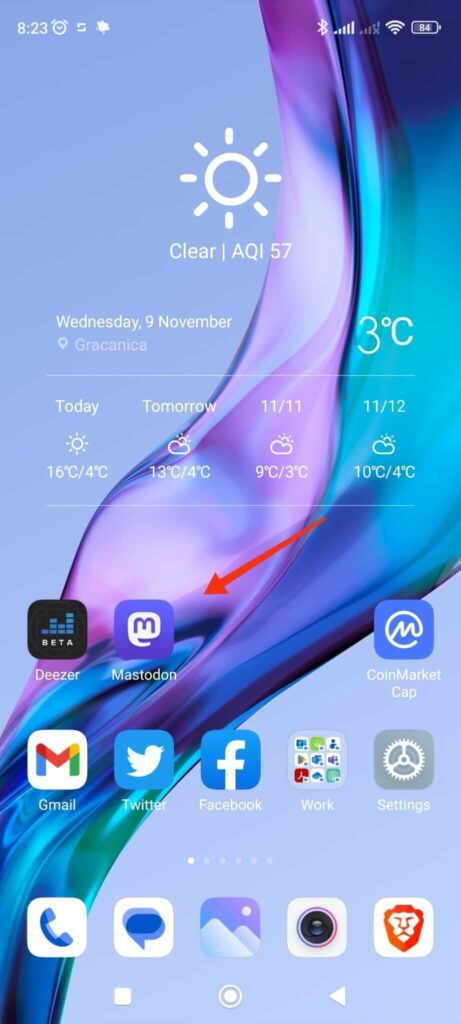 Step 4: Open The App and Enjoy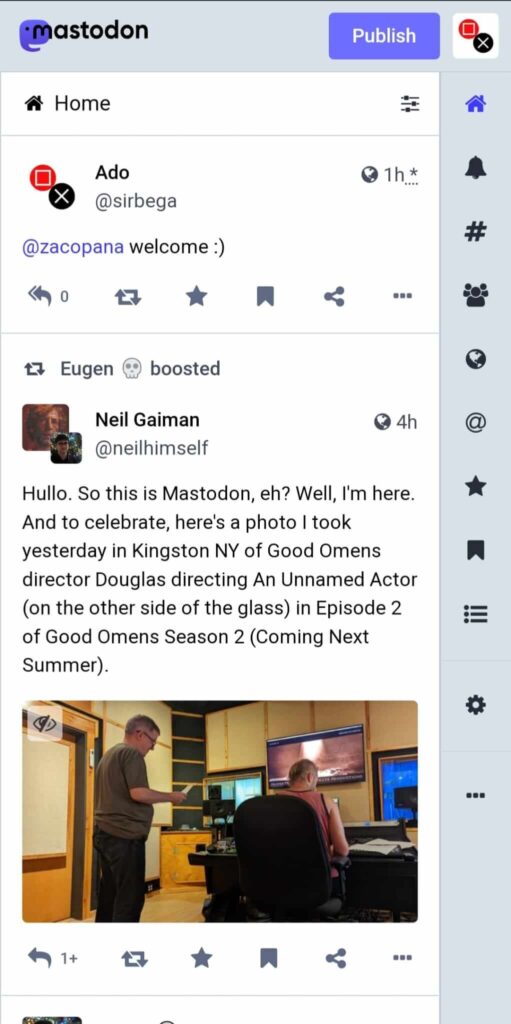 Tusky
Tusky significantly enhances the capabilities of the original Mastodon app while maintaining a simple and welcoming appearance, making it the most well-known third-party Mastodon app for Android. It is open source and free.
Anyone who has used social media should be comfortable with Tusky's timeline view due to its simplicity. The added features, including scheduled postings, are where the app really shines.
Tusky is a free app that can be downloaded from the Play Store and F-Droid, however it is funded by community donations. Tusky can be used for free, and you can support its creators by making a donation to help keep it free.
Download Tusky from the Play Store
Twidere
Due to a large number of people moving away from having a Twitter account, Mastodon has recently experienced an increase in popularity. Of course, moving platforms can be challenging because you have to gain new followers while simultaneously keeping up with your old friends who are still using your old platform.
For this purpose, Twidere could be useful. This free Android app can connect to one or more Mastodon instances in addition to Twitter. You may then view the timelines of both new tweets from Twitter users you follow and new toots from Mastodon.
Twidere is presently one of the rare Android apps that seamlessly combines Mastodon and Twitter. Although its general experience and design may not be as refined as some of the other options. Even better, you may create a new post that will be shared concurrently on all platforms, making it simple to maintain feed synchronization.
Download Twidere from the Play Store
And that is all for today. Write us in the comments section if you think we could write more tutorials on the Mastodon subject.
We have already covered the explanation of what exactly Mastodon is and how to locate your people there. In this article: