Smartphone technology is evolving at an unprecedented pace and with it mobile games are trending as never before. Of course as much as smartphone technology is driving the development of ever more demanding games so too the games are pushing the hardware producers to compete in the highly profitable gaming phones market.
Since the mobile gaming market is now seriously competing with the console gaming market the smartphone producers have also started competing in a newly emerging market: high performance gaming phones.
The best gaming smartphones boast first class CPUs, large quantities of RAM, quick display refresh rates, huge screens, special gaming mode software and cooling systems.
Games like PUBG mobile, Call of Duty: Mobile, Fortnite and Asphalt 9 Legends will run without ever slowing down on these devices.
Everyone has already heard of the mainstream phone producers like APPLE, SAMSUNG and HUAWEI and picking their flagship phones is still a great way to go for gaming, however companies like ASUS, ZTE, XIAOMI, RAZER, ONEPLUS and LENOVO are taking a step forward at least when it comes to gaming. Scroll below for a list of the best phones for gaming in 2020.
Asus ROG Phone 3
The top premium model
Release date: July 2020 | Weight: 240g | Dimensions: 171 x 78 x 9.9mm | OS: Android 10 | Screen type: AMOLED | Screen size: 6.59-inch | Resolution: 1080 x 2340 | Screen refresh rate: 144Hz | CPU: Snapdragon 865 Plus | RAM: 8GB/12GB/16GB | Storage: 128GB/256GB/512GB | Battery: 6,000mAh | Battery endurance rating: 120h | Rear camera: 64MP + 13MP +5MP | Front camera: 24MP
ROG stands for "Republic of Gamers" so it is really obvious what this smartphone is all about. This phone is an absolute beast. It occupies the top spot on any list for a wide variety of reasons. This phone is designed specifically for gaming. It sports a beautiful 6.59 inch AMOLED screen with the world's highest refresh rate which is 144Hz and that comes supported by the huge 6,000mAh battery which will guarantee hours of screen on time. The battery itself is then supported by 30W fast charging, which may not be the highest on this list but is still very good. Add the 270Hz touch sampling rate to the list and you have a device with the fastest possible response which is crucial for fast paced games.
All this is run by the Snapdragon 865 Plus chipset, up to 16GB of RAM and huge amounts of storage. And if you are just not satisfied by this monster of a chipset at default settings the phone comes equipped with special gaming software which lets you adjust your gaming experience by overclocking the CPU or adjusting the fan speed.
The phone has liquid cooling but still all of this power means that it also gets very hot fast, which is why you get a very smart clip-on fan out of the box. Many other accessories like a gamepad are available, but these have to be bought separately. Why would you need a gamepad when this phone sports shoulder buttons as well though?
Other than that it has air triggers which are very useful for some games and enough bezel above and below, zero bezel is actually very bad for gaming as it leaves no room for the palms to hold the phone tight which can cause accidental touches.
Non gaming related, the cameras on this phone are also surprisingly good. They are on par with the Samsung Galaxy S20 but not as good as Google Pixel 4.
The flaws:
Asus ROG Phone 3 has some flaws, but some of them are not really important for gaming. It does not have the water resistance certificate and the wireless charging. It does not have a 3.5mm jack, a crucial component for games like PUBG mobile which for some reason can't work well with bluetooth headphones (sometimes copying Apple is not a good thing), although the 3.5mm jack does come on the clip-on fan. The design is questionable at best and it gets hot very fast (which is mitigated by the additional fan). So if you only want the phone for gaming this one is tough to beat.
ZTE Nubia Red Magic 5G
The cheaper alternative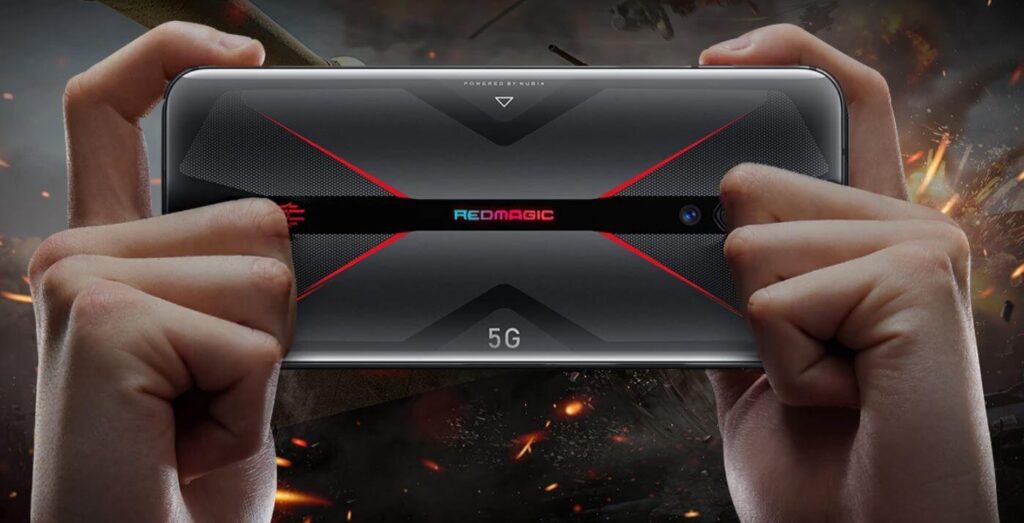 Release date: March 2020 | Weight: 218g | Dimensions: 168.6 x 78 x 9.8mm | OS: Android 10 | Screen type: AMOLED | Screen size: 6.65-inch | Resolution: 1080 x 2340 | Screen refresh rate: 144Hz | CPU: Snapdragon 865 | RAM: 8/12GB | Storage: 128/256GB | Battery: 4,500mAh | Battery endurance rating: 83h | Rear camera: 64MP + 8MP + 2MP | Front camera: 8MP
Like the ROG Phone 3 this one was also built specifically for gamers and it all screams that from the first moment you see it. The looks will definitely only appeal to gamers with all the sharp lines and the logo that lights up. But alas, the design is not important for gaming. This is actually the first phone that came out with a 144Hz screen. The touch sampling rate is 240Hz which allows ultra quick response times.
Other than the awesome screen this phone has other perks designed specifically for gaming. It has a built in fan and liquid cooling, these two combined keep the phone cool even when playing very heavy games for prolonged periods of time. It has additional capacitive gaming triggers on the shoulders which provide extra control for FPS/TPS games like PUBG Mobile. Like all gaming phones it also comes with software gaming mode which lets you set up your gaming experience.
Unlike other gaming phones though it has something called "4D Shock vibration feedback", this is supposed to add another dimension to gaming by providing feedback through vibration, however at the time very few games support this feature.
The smartphone is run by the very capable Snapdragon 865 chipset and up to 12GB of RAM. The storage is up to 256GB, however it can not be further upgraded with an SD card and this could be a problem further down the road. For the near future though, The chipset, the RAM and the storage are more than enough.
The phone has a huge 4,500mAh battery with 55W fast charging capability. It gets charged up to 100% in 40 minutes!
Unlike the ROG Phone 3 this phone also has a 3.5mm headphone jack and I can not stress enough how important this is for a gaming phone. It also supports 5G which can sometimes help with reducing the ping, we all know how deadly a high ping is. It even has NFC.
The cameras on the phone are below average though.
The flaws:
When it comes to gaming this phone really does not have many flaws. The only gaming related concern is that the bezels are quite thin, which could cause some accidental touches. The flaws are there when it comes to everything else. The cameras are subpar, the design is questionable, the software is buggy and the screen resolution could have been higher. As with the Asus, if all you need this phone for is gaming, then you can buy it confidently.
Xiaomi Black Shark 3
The best buy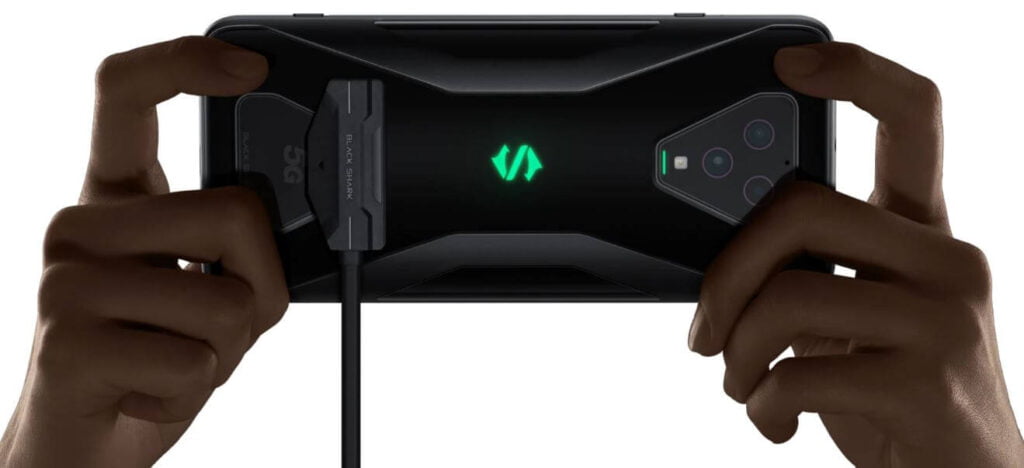 Release date: March 2020 | Weight: 222g | Dimensions: 168.7 x 77.3 x 10.4mm | OS: Android 10 | Screen type: AMOLED | Screen size: 6.67-inch | Resolution: 2080 x 2440 | Screen refresh rate: 90Hz | CPU: Snapdragon 865 | RAM: 8/12GB | Storage: 128/256GB | Battery: 4,720mAh | Rear camera: 64MP + 13MP +5MP | Front camera: 20MP
No list of best smartphones for anything is complete without a contender from Xiaomi nowadays. The Chinese producer produces phones that provide the most bang for buck in almost all segments. The only reason Black Shark 3 is not higher on this list is that its screen refresh rate is "just" 90Hz. This is coupled with the 270Hz touch sampling rate and a 24 millisecond latency, the lowest in a smartphone.
The phone is big, but it packs a lot of goodies underneath that chunky frame. It has shoulder triggers of course and four pressure sensitive points on the screen. It also has LED lights, 3.5mm headphone jack and forward facing speakers. The chipset again is the Snapdragon 865 coupled with up to 12GB of RAM and 256GB storage. Sadly, like the Nubia it does not have an SD slot. Nevertheless all these specs mean that this phone will provide you with lots of gaming for years to come.
Xiaomi excels in battery size with all its smartphones and that is also the case here, the battery is huge at 4,720 mAh. It supports 65W fast charging via the USB-C port which gets it to 100% in just 38 minutes! It also has 18W magnetic charging. It also has "magnetic charge" which works with 18W and is shown in the picture above. This is a wonderful feature as it allows you to charge your phone while playing without the cable getting in the way.
The cameras on this phone are actually quite good. It also supports 5G and is affordable. That being said, this really is the "best buy" option. The bezels are thick enough to help against accidental touches.
Xiaomi Black Shark 3 also has a "Pro" version, however the only differences are a larger screen with a greater resolution, 7.1-inch 3,120 x 1,440 and a slightly bigger battery which is 5,000 mAh. But it comes at a much steeper price which would not make it a best buy anymore.
The flaws:
While this is a well rounded phone which excels in areas other than gaming it still has some gaming related flaws. The most important one is the 90Hz screen refresh rate. While this is very good for the current market as not many games support even 120Hz not to mention 144Hz, it will be a big flaw in the future. Not being able to expand the storage to more than 256GB is another flaw. The special gaming software is also lacking a bit compared to the ROG and the Nubia.
---
Conventional/normal smartphones that can deliver good gaming results.
---
Apple iPhone 12 Pro
The best iOS option
Release date: October 2020 | Weight: 189g | Dimensions: 146.7 x 71.5 x 7.4mm | OS: iOS 14 | Screen type: Super Retina XDR OLED | Screen size: 6.1-inch | Resolution: 1170 x 2532 | Screen refresh rate: 60Hz | CPU: Apple A14 Bionic chip | RAM: 6GB | Storage: 128GB/256GB/512GB | Battery: 2,815mAh | Battery endurance rating: 81h | Rear camera: 12MP + 12MP + 12MP + LiDAR scanner | Front camera: 12MP
Even though iPhone may never be the best option for gaming, some users will never switch to another brand, so this list will never be complete without an iPhone product on the list. The iPhone 12 Pro is the newest and the best iPhone right now. It has a wonderful looking 6.1 inch screen which is optimally sized for more than just gaming.
The A14 Bionic chip is even quicker than the Snapdragon 865 all the already mentioned chipsets and the 6GB of RAM may seem weak, but this is still an iPhone we're talking about, Apple is the absolute best at getting the most out of the resources at hand. This phone will just run all the currently available games at the highest settings with not much effort. Yes, in terms of raw power this smartphone is better than anything available at the moment.
The 2,815mAh battery may look small, however the Apple chipset uses less power than the competitors and everything else is so perfectly balanced that this battery still performs excellent. It comes at the cost of only 60Hz screen refresh rate though. The touch sampling rate of 120Hz is also quite inferior to the competition. Battery charging is very slow since it only supports 15W charging which will take 3h to full charge. This is unacceptable for gaming!
This also comes with the best smartphone cameras, 5G and the Apple ecosystem. While 5G is still not widely available everywhere in the world, it will be, and it will be very important for gaming in the future and this phone will perform for the next 4 to 5 years to come. This is probably the best all around phone on this list.
If you insist on an iPhone but you want it specifically for gaming you may opt for the regular iPhone 12 as the Pro version is only better in the camera department. The regular version is quite cheaper though.
The flaws:
It does not have a 3.5mm headphone jack, which is a huge flaw. It does not come with a dongle that helps solve this problem either. It comes without a charger too. While the screen does deliver a crisp image it only has a 60Hz refresh rate which is a huge downside when it comes to gaming. It does not have shoulder buttons for gaming. Battery charging is incredibly slow. The bezel is too thin. It is very expensive.
Samsung Galaxy S20 Plus
The best conventional android phone
Release date: March 2020 | Weight: 163g/186g | 161.9 x 73.7 x 7.8mm | OS: Android 10 | Screen type: Dynamic AMOLED 2X | Screen size: 6.7-inch | Resolution: 1440 x 3200 | Screen refresh rate: 120Hz | CPU: Snapdragon 865 / Exynos 990 | RAM: 8GB/12GB | Storage: 128GB/256GB/512GB (S20 Plus) | Battery: 4,500mAh | Battery endurance rating: 87h | Rear camera: 12MP + 64MP + 12MP | Front camera: 10MP
The Samsung Galaxy line of flagships has been the best among android smartphones for years and will most probably continue this trend. Still, the Galaxy S20 Plus is not included on this list based on the name only. The Dynamic AMOLED 2X screen offers a fantastic picture. It is actually the best screen around. The 120Hz screen refresh rate coupled with the 240Hz touch sampling rate is great even for special gaming phones let alone mainstream options.
This is then run by the powerful Snapdragon 865 chipset if you are in the USA or the 6% weaker Exynos 990 if you are anywhere else in the world. 8GB or 12GB of RAM with these chipsets offer great performance. All this is supported by the big 4,500mAh battery which supports 25W quick charge that brings it to 100% in 1 hour and 6 minutes.
The camera is among the best, it supports 5G and like the iPhone it will perform admirably for the next 4 to 5 years.
Samsung S20 also comes in other versions like the regular S20 and the S20 ultra. The differences being the screen sizes with S20 being 6.2 inch and the ultra being 6.9 inch. The batteries are of different sizes and different charging options. The S20 ultra also has much better cameras, for gaming only it does not justify the price difference.
The flaws:
No 3.5mm headphone jack! Again, this is a huge deal in gaming. The bezel is thin. No gaming shoulder buttons. It is very expensive.
Other options to look at
Lenovo Legion Duel
A premium gaming phone with much of the same characteristics as the Asus ROG Phone 3, however with a huge price and no 3.5mm headphone jack. Also not available on Amazon which might be a deal breaker.
OnePlus 8 Pro
A great flagship from the niche phone producer. Not much worse than the Galaxy S20, worth taking a look at.
Xiaomi Mi 10
Mi 10 comes in a wide range of varietes and is a great choice for a flagship phone that does everything well. A great alternative to the Samsung.
Pocophone X3
This phone is the absolute best buy when it comes to conventional phones that are good for everything. It even has liquid cooling and is very cheap.
Samsung Galaxy Note 20 Ultra 5G.
Like the S20 Plus, but bigger and with some additional options.